Insights Customer Communications & Experience
How Consumers Are Shaping the Communications Industry
For decades, print & mail was the tried, tested, and trusted medium for businesses to reach their customers. Now, consumers have a wealth of new communication channels, including texting, phone apps, and social media. While these mediums may sound diverse, they all share a common denominator in their mobile accessibility.
In the transactional communications market, digital adoption continues to erode print volume. Convenience, cost, and portability have propelled mobile devices past personal computers as the primary digital platform for consumers. In fact, between 2016 and 2018, Keypoint Intelligence – InfoTrends (InfoTrends) Transactional Communications Consumer Survey shows a 200% increase in the percentage of customers who listed a mobile device as their primary access point for transactional communications! The declining popularity of "web" access (meaning the use of desk-and-laptops) over the same period suggests that consumers who once relied on these devices have now shifted to mobile. At the same time, physical mail continued a gradual reduction in primary access that matches its declining volumes while email (despite a jump in 2017) remained relatively flat at the end of this three year period.
Primary Consumer Access Channel for Transactional Communications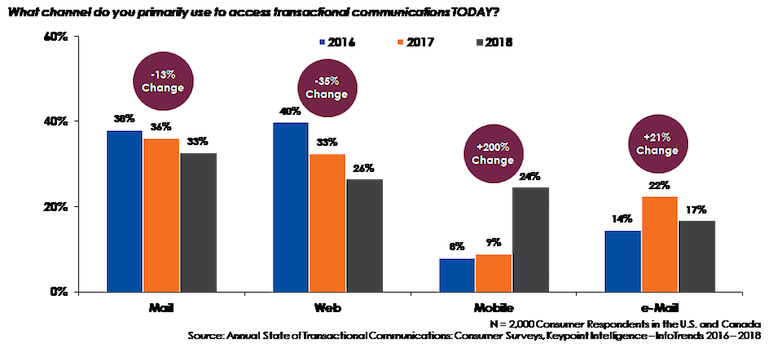 But beyond a simple switch of channel, empowered consumers are also dictating the terms of the new communications dynamic. This digital landscape will be fiercely competitive, and customer experience quickly becoming a key differentiator. InfoTrends' latest consumer data shows that when consumers change providers, two-thirds reported that they made the shift because of unsatisfactory customer experience. That experience can make consumers your greatest advocates (with 49% saying that they tell others about a company providing a good customer experience) or a vocal liability (51% will complain about a bad experience.)
Hoping to get ahead of the curve, companies are beginning to look at improving user experience by enabling to real-time data delivery. InfoTrends' survey of enterprises for Pricing for Digital: Exploring New Models for Transactional Communications found that while batch delivery remains the standard, nearly three-quarters of business in North America expect an increase in real-time delivery and agree that this increase will drive rising costs tied to real-time data pulls. Few companies need real-time data today, but they are interested in "future-proofing" their communications strategies by securing contracts with providers that can offer the service.
With increasing consumer demands and a far more open channel landscape, communications teams are having to rethink their platform offerings. If an app is too rigid, it can prevent real-time functionality, slowing communication and reducing the quality of customer experience. Recently, customer communications solutions have begun shifting from one-size-fits-all approaches to modular structures with open APIs that are easy to integrate with existing systems and solutions. This trend in "platformization" allows providers like Symcor to broaden our existing digital capabilities and mount a "digital-first" approach to the design and execution of a variety of customer communications applications.
Finally, strong user interface (UI) design is essential for companies looking to reach a larger consumer base. We have seen an evolution from technical UI (geared toward IT professionals) toward a more user-friendly interface tailored to the non-technical user or typical consumer. By breaking down the walls that separate siloed business units, cultivating a single view of customer, and perfecting communications through a superior interface, businesses can help customers be confident that they are in complete control of any action they take.
In their pockets and purses, today's consumers carry the entire annals of recorded knowledge and the ability to order anything and contact anyone from every corner of the global. The speed and access afforded by mobile digital devices have not only revolutionized the way we interact, but also stoked consumer expectations of products, service, and experience, empowering them to shape the future of the communications industry.