Insights Customer Communications & Experience
It's Time for a Different Approach to Digital Adoption
Has your company's e-adoption stalled? Have you seemingly reached a ceiling on the percentage of customers willing to turn off paper bills and statements? If so, you are not alone. Maybe it's time to rethink digital's place in the overall customer communications strategy.
Let's face it: in the past, businesses have often taken the path of least resistance when it comes to communicating with their customers. Some have only recently (and reluctantly) given into consumer demand for electronic channel support. We still see that PDF is a popular choice that businesses turn to for digital. However, PDF is limited when viewing on a mobile or tablet and has not changed the customer's behavior to adopt. Nevertheless, those who came around to the idea soon began to see e-adoption's potential as a cost-saving initiative, but few lacked the will or coordination to make digital delivery work for them or their customers. If consumer data is locked away in business unit silos, no amount of technological options bolted onto an existing operational framework will allow your organization to meet customers' changing demands.
Today's consumers have been conditioned to expect fast, efficient service and more personalization. According to Keypoint Intelligence - InfoTrends' latest transactional communication surveys, nearly half of late technology adopters now place a premium on the ability to access transactional communications on their smartphones. On the other hand, 46% of tech-savvy early adopters are making a conscious choice to retain paper bills and statements.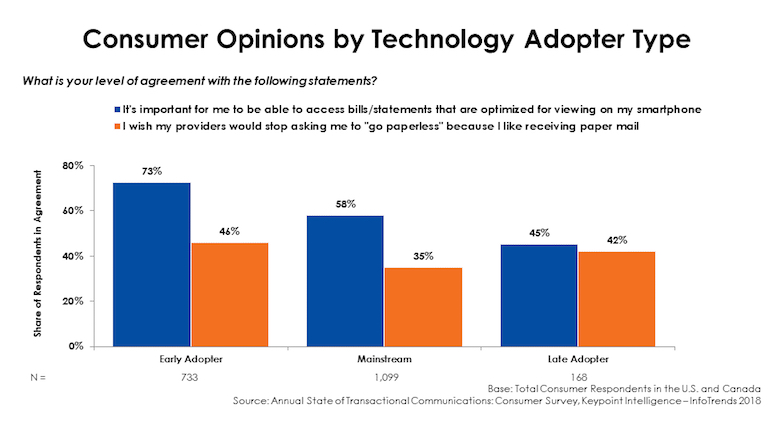 This points to an interesting homogenization of consumer opinion. There is a growing affinity for digital communications, even among late adopters, but at the same time, younger consumers are making a conscious choice to retain certain paper bills and statements. Just as early tech adopters do not expect to go completely paperless, late adopters are certainly not ignoring the migration to digital. As a result, no single communication channel can be expected to deliver the full experience that your entire base demands.
While the importance of breaking down operational silos to achieve a single view of customer across all channels is becoming more and more apparent, forward-thinking businesses are also blurring the line between transactional and marketing communications. Beyond the old notion of "TransPromo", this new strategy instead focuses on leveraging consistently high quality, personalized communications to improve customer experience, engender loyalty, and ultimately, generate revenue through the critical communications providers are already required to send.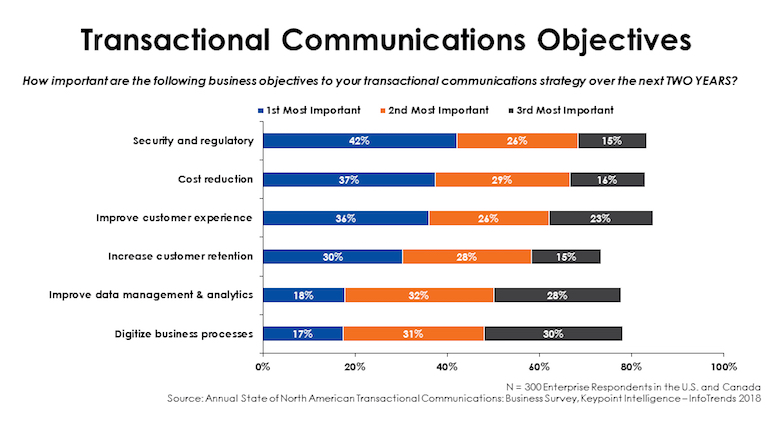 Imagine a future where you can seamlessly communicate a cohesive and consistent message to customers on their mobile phones during a commute or by email while they work at a desktop. When they return home, consumers might find a digitally-enabled and personalized piece waiting for them in the mail box — one that empowers them to pay a bill, upgrade services, or connect with customer service. Committing to a channel agnostic approach is the first step you can take today toward prioritizing efforts to optimize customer data and invest in the tools, talent, or partnerships necessary to properly format personalized messages over different devices. Working toward relevance in messaging and consistency across mediums will improve your customers' experience by enabling your communications to fully complement one another, allowing users to switch between channels without the hassle of dealing with redundant information or the fear of missing an important cue.