Insights Customer Communications & Experience
Know Me
In our last blog, Digital Insurer – Evolution or Disruption, we discussed the impact of digital transformation investments to all businesses and how that transformation comes at a cost. Prior to the digital era, businesses were able to get to know and understand their buyer's needs through personal interaction and meeting with them in person. In the digital age, we are left with a trail of clicks and preferences but little else to inform us on the wants and needs of our digital customers. The challenge in the digital age, then, is demonstrating to customers that you know them and understand their wants and needs with an incomplete and imperfect data set.
This new paradigm has led to an explosion of offerings in predictive and adaptive analytics, AI, third party data services and social media tracking to help the modern business owner better understand their customer and specifically what products and services might be most appropriate to recommend to them when they visit your site, click through an ad or download an app. For insurers, this presents an added dilemma since so many of their products and services are sold either through intermediaries (agents/brokers) or on their shiny new DTC (Direct to consumer) websites. This issue is particularly acute in the life insurance industry, where products are purchased one time and then very little interaction occurs for literally years. In the insurance industry, we simply don't have the high frequency of interaction with our customers that industries such as banking, financial services or even retail enjoy. As a result, the question we have to ask is how can you get to know your customer in this digital environment?
The insurance industry has spent the past few years investing heavily in customer experience. Many of those projects have been highly focused on a 360 degree view of the customer, improving portals and self service capability and streamlining the new business process. The next challenge will be around the personalization of every customer interaction creating a more direct and knowledgeable relationship between insurer and customer. This is a concept that Celent has outlined in their research report 'Digitizing the Customer Experience: A New Framework' which can be accessed here. Below is an illustration of a key concept from that report relating to the new customer experience framework. This digital approach to getting to know your customer will be just as crucial to customer satisfaction and business growth as knowing your customer personally was in the days of bricks and mortar only. Knowing your customer is fundamental to moving on to the stages of helping your customer. Helping them to protecting themselves, preventing losses from occurring and to recovering from them when they happen which are all topics we'll cover in future posts.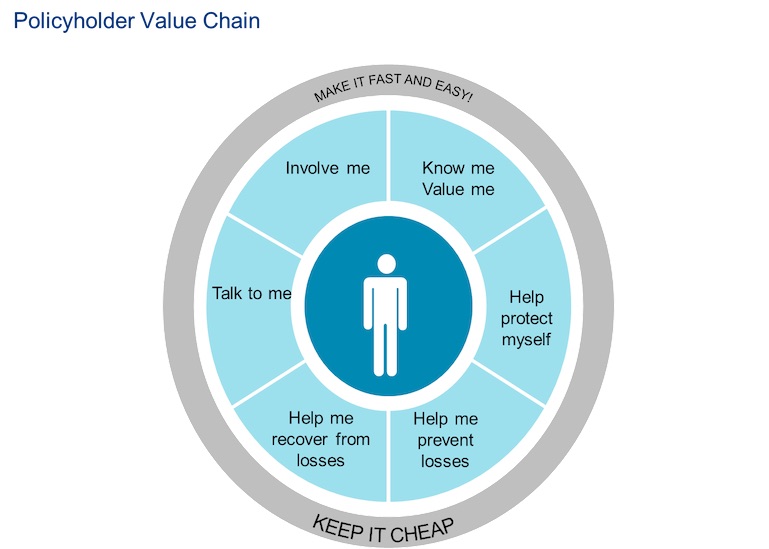 Source: Celent- 'Digitizing the Customer Experience: A New Framework'

Note: Celent recently shared insights from this report in a webcast – 'Customer Experience: The New Battleground for Differentiation'. Click here to view the recording.