Insights Leadership
Making a Difference in Canada's Digital Future
This spring, I had the honour of appearing before the House of Commons Standing Committee on Access to Information, Privacy and Ethics as part of its study on improving government services while protecting the privacy and security of Canadians. The experience was one I will not soon forget as it provided me with a unique opportunity to help shape Canada's digital future.

A made-in-Canada path toward digitization of services

My visit to Ottawa followed the publication earlier this year of a government report titled Data Strategy Roadmap for the Federal Public Service. This thoughtful, detailed report outlines how public service workers will facilitate the development of accessible, convenient online services while, at the same time, protecting individuals' privacy and security. The report identifies that the way in which the Government of Canada collects, manages and governs data must evolve, and sets out a plan to get the wheels in motion. Part of the plan calls for input from leading experts in data privacy and security.
The role of trust in digital offerings of any kind
The central theme of my testimony was trust—a concept I've written and spoken about and considered at length. Time was limited, so the focus was on three tenets core to promoting trust and encouraging digital adoption.
Privacy by design and data stewardship. These two concepts go hand in hand. Privacy by design means that privacy is taken into account throughout the planning and service delivery process of any product or project. It requires cross-functional collaboration and the embedding of privacy into all operations, from start to finish. Data stewardship requires operationalizing the accountability model and accepting responsibility for protecting personal information.
Upholding the role of trusted service providers in the digital ecosystem. Under the Personal Information Protection and Electronic Documents Act (PIPEDA), Canada's federal private sector privacy legislation, organizations are responsible for personal information under their control, even when it is transferred to a third party. While the federal government is not subject to PIPEDA and is instead governed by the Privacy Act, the tenet of accountability ought to inform public sector privacy practices as well. As the Canadian government increases access to digital services, it will inevitably need to work with outside service providers and intermediaries to deliver its digital offerings. To increase the level of trust citizens have in the Canadian government and its data handling practices, the government will need to maintain consistent standards that third parties are obligated to meet in order to be considered trusted service providers with whom the government is willing to do business.
Adhering to a consistent legislative framework. Similarly, lawmakers must create consistent and robust privacy rules for the private and public sectors involved in data processing. In particular, greater government transparency and accountability built into privacy legislation would assist the government to gain and maintain the public's trust.
We're in it for the long haul
As part of my presentation, I also recommended that the government build a maturity model that scales to the future in order to help ensure the success of its digital roadmap. I emphasized that this forward-looking model should consider privacy and security at the foundational level of digitizing government services, and also at the more advanced stages. Ideally, this model will allow society to become fully digitized, with everyone and everything connected to a flexible and fluid, ever-expanding ecosystem that is built on trust and responsible data handling practices.

Obviously, this won't happen overnight, in a year or even a decade: This is a long-distance journey, not a sprint. We need the stamina and strength to stay the course and implement the recommended changes safely and soundly. Those of us connected to, leading, and supporting such transformations are in it for the long haul, and can be counted on at any time to provide our expertise and ideas—as individual Canadians truly making a difference.
Trust in the future
Personally, I've never felt so convinced of the critical role that trust will play in our digital futures. Establishing and maintaining trust is paramount for the government to successfully empower civil servants and citizens to be fully confident when using and promoting the Canadian government's digital offerings.

I am pleased that the federal government is actively reaching out to those of us on the front lines to move privacy and data protection strategies into action. My experience in Ottawa assured me that the government is taking these issues seriously and embracing privacy by design as it architects the digital future. I am comforted that we, as a society, are moving safely and thoughtfully in the right direction.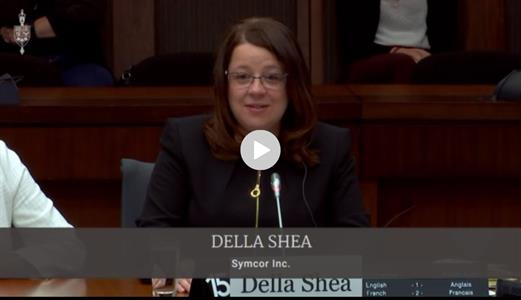 Please watch the full session here